THE TRUTH ABOUT EYEGLASSES
Traditionally, lens companies design their lenses to correct vision one eye at a time.
First, they correct the vision in one eye
Then they correct the vision in the other eye.
What happens is that, even though the prescription gives you clear vision in each eye, the image size and the motion demand may be different from one eye to the other. That's called aniseikonia and it causes all kinds of unnecessary stress and strain.
Glasses can cause all kinds of problems
Woozy
the minute you put them on
Headache
yes it could be your glasses
Turn head not eyes
instead of turning eyes
Pull down nose
to look over glasses
Take them off
to rest tired eyes
No wonder
you don't like wearing glasses.
Now it wasn't your doctor's fault, no one has been talking about this problem (it's called aniseikonia) because no one has had a solution… until now
The SHAW™ lens fixes problems others create
The SHAW lens is unique. The patent-pending technology of the
SHAW lens takes into account how both eyes work together.
SHAW lens wearers report:
bigger binocular field of view
reduced distortion
less eye strain
fewer headaches
more comfort from the moment they put them on
In fact, we're so confident that our approach to lens design makes such a difference that we make this promise: Love your SHAW lenses from the moment you put them on or your money back.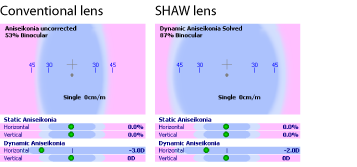 The Love at First Sight Guarantee
You shouldn't have to "get used" to your SHAW lenses. In fact, if you don't think your SHAW lenses are the best you've worn from the minute you put them on – then we'll make it right or give you a full refund*. It's that simple.
*Guarantee applies to lenses only. If you have problem adapting to your SHAW lenses, please report to your dispensing optometrist within 90 days of purchase. Shaw Lens Inc. will replace your lenses free of charge to make it right. If you still aren't satisfied, we'll refund the original wholesale cost of the lenses to your optometrist. This comfort guarantee does not replace the 2-year manufactures quality warranty.