Progressive lenses
They're not all the same… and they're way different from single vision!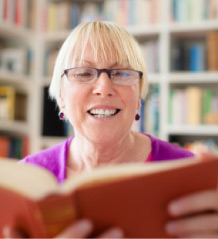 "SHAW lens is the best progressive lens by far with least distortion ever"
Trouble adapting is now a thing of the past
Why distortion matters so much more with progressive lenses
Progressive lenses give the wearer the ability to see both near and far, with a prescription in both planes. The transition between the two prescriptions, or the corridor, has to be managed to create a smooth transition in the visual field.
With conventional single vision lenses, you can always move your head so you are looking out of the centre of your glasses if you find distortion at the edges. (Of course, the SHAW lens solves that problem). But with progressives moving your head instead of your eyes just won't work.
You need to be able to look out of the lower portion of the lens and focus on what you're reading with both eyes working in tandem. And if your eyes need a different prescription, then that can be a real problem. Your eyes will be forced to move differently by conventional lens design when you go to read. That can cause double vision, eyestrain and headaches.
Only the SHAW lens is designed with this in mind. Simply put, it's the most advanced binocular lens design on the market and this makes a big difference.
If you're spending good money on a pair of progressive lenses then you owe it to yourself to understand a little about a kind of distortion caused by glasses, which is called "aniseikonia".
Simply put, to correct your vision your glasses magnify the image in each eye. If your eyes have different prescriptions then magnification is different. What that means is the image is a different size in each eye.
On top of that, as you move your eyes around, this difference in magnification gets even more dramatic and causes the distortion, double vision and general discomfort you may experience. That's called aniseikonia and the SHAW lens fixes it. (No other lens company does.)
Symptoms of aniseikonia



Binocular design reduces headaches, eye strain and other problems


You won't have to get used to our lenses
Because we make lenses to accommodate how both eyes work together there's no adaptation required with the SHAW lens. That's why they're backed with our Love at First Sight™ guarantee. If they're not the best you've had then we'll fix it or refund your money*. It's that simple.
Features of the SHAW lens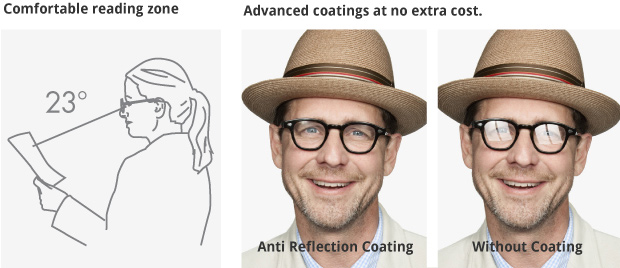 Dr. Peter Shaw speaking to OD's on progressives
See the continuing education presentation Dr. Peter Shaw did at the Ontario Association of Optometrists, titled Current Terminology for Progressive Lenses. Dr. Shaw provides more information about PAL lenses, including details about digital and free-form.
*Guarantee applies to lenses only. If you have problem adapting to your SHAW lenses, please report to your dispensing optometrist within 90 days of purchase. Shaw Lens Inc. will replace your lenses free of charge to make it right. If you still aren't satisfied, we'll refund the original wholesale cost of the lenses to your optometrist. This comfort guarantee does not replace the 2-year manufactures quality warranty.